Peace and Love to all,
We are excited to let you know DJ ICE, is the latest addition to SA Fam working alongside DJ SOLO on the 40's & Blunts Show.
Holding it down as talent coordinator for the show. Today on
you can get a free download of the latest tracks from Brothaz Bent "Polluted Skyline" & Deep Thinkers "Make It Quake". There is also a link to purchase the Miracle Mile Vol. 1 We appreciate all your support.

MIRACLE MILE Vol. 1
Also on June 23, DJ MUGGS is releasing SOUL ASSASSINS "INTERMISSION" album
to reserve your copy of the Soul Assassins Intermission album. With features from Bun B, Sick Jacken, RZA, B-Real, Self Scientific, Evidence, Alchemist, La Coka Nostra, Cynic, P.C.P., Planet Asia and more, this is sure to be an instant CLASSIC!! You have 2 options for getting the album
1st - You can pre-order the album for $14.00 and receive a copy of the Soul Assassins booklet with your album. This means it ships together so please don't ask about shipping the items separately. The only way to get the Book immediately is to spend $50 in the Soul Assassins Online or at the S.A. shop in Pasadena.To pre-order the CD only click
here
.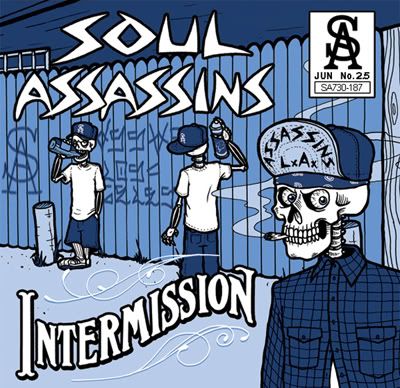 2nd - You can order the Soul Assassins Intermission package. This comes with The CD, the booklet, a Soul Assassins Intermission Flat and a Limited edition Soul Assassins T-Shirt. This collection costs $35.00 and will be shipped together. To order this package click
here
. (We don't have pictures of the shirt you will receive but we do have the artwork)