Miles Bonny CLOSER LOVE Innate Sounds / Melting Pot Music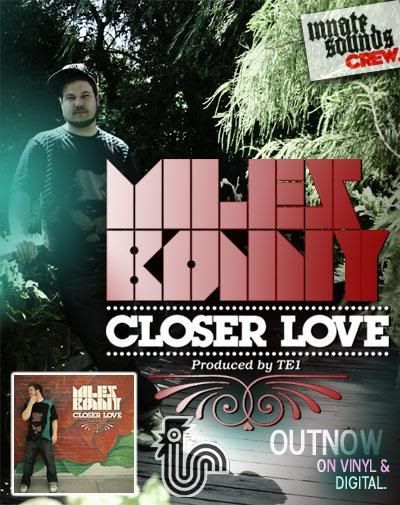 http://www.myspace.com/milesbonny
This Midwest musical magician is back at it with no tricks up his sleeve.
This next flav CLOSER LOVE from my mellow MILES BONNY could have very well been #1 on this chart . Word up. Just released on Melting Pot Music a bit unusual cause I thought it was an INNATE SOUNDS release.
Miles, the trumpet, singer, producer, arranger, engineer, father is back with CLOSER LOVE. CL is very soulful and easy to the ear like tracks WHAT IT IS I SEE. Miles Bonny works his singin skills in just right with some smooth horn playin' on YES I DO. Just in the name of his previous group this record SOUNDSGOOD. JAZZ is what Kansas City is best known for MILES brings that new JAZZ sound back to KC. Tastier than a bottle of GATES BBQ Sauce.